New Books
New book: The Truth Society by Noelle Molé Liston (Cornell University Press, 2020)
On April 13, 2021 by Emanuela Grama
SAE member Noelle Molé Liston has recently published The Truth Society: Science, Disinformation, and Politics in Berlusconi's Italy (Cornell University Press, 2020).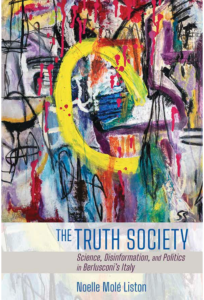 How does the way in which we know about world shape who we think should rule it? The Truth Society seeks to understand how an era of Italian political spectacle, which regularly blurred fact and fiction, has shaped how people understand truth, particularly mass mediated information, and in turn, scientific knowledge and forms of governance.
The book scrutinizes how Italy's political culture of artifice has made some actors doubt science, while others disproportionately invest in its value. It examines Italy's late 20th century political culture, particularly former Prime Minister and media mogul, Silvio Berlusconi. The fundamental premise is that seemingly disparate events and practices that have unfolded in Italy—its pro-science social movement, its cyber-utopian, digital populist and algorithmically democratic Five Star Movement and the city of L'Aquila's trial against scientific disinformation—are historical reactions to mediatized political forms and particular ways of knowing. Politics, then, is always sutured to the material infrastructure of information: how knowledge is technologically structured, circulated and processed. The Truth Society offers Italy as a case study to understand the remaking of politics in an era of disinformation.
You could also read the author's blog post, "A Tale of Two Deceptions," on the website of Cornel University Press.