Graduate Student Paper Prize Competition
Call for Submissions Now Open!!
The Society for the Anthropology of Europe (SAE) is now accepting entries for our annual Graduate Student Paper Prize. The winning author will receive a $400 award. All finalists will also be mentored by scholars with relevant expertise to help refine their papers towards possible publication and, if appropriate, receive peer review through Social Anthropology (see https://onlinelibrary.wiley.com/journal/14698676). The evaluation will be based on originality, contribution to the field,* and the inclusion of diverse perspectives.
The word limit is 7,000 words, including the main text and references, but excluding the abstract. The abstract should be no more than 200 words. Manuscripts must be submitted in English (original or in translation) in a style appropriate for a manuscript in preparation for publication.  Submissions will only be considered if they have not previously appeared in print or online. SAE will only accept one submission per person. At the time of submission, authors must be graduate students (including Ph.D. candidates) in anthropology or related fields at universities anywhere in the world. There are no citizenship requirements. BIPOC, women, and LGBTQ+ scholars are strongly encouraged to apply. The review committee will inform candidates about the results of the competition in October.
Interested graduate students should submit their work, along with a title page that includes contact information and university affiliation, via email to Damani J. Partridge at SAEPaperCompetition@umich.edu by May 25, 2023.  Please put "SAE Paper Prize Submission" in the email subject line.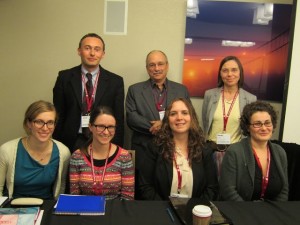 Graduate paper prize winners and panel members, 2013
2021 SAE Graduate Student Paper Prize:
Winner: Céline Eschenbrenner (Tulane University), "The Sound of Difference: Mobility, Alterity and Sound at the French-Italian Border" (mentor: Naor Ben Yehoyada)
Runners-up:
Emily Curtin (CUNY Grad Center), "Belarus in Motion: The Politics of Fitness in Contemporary Minsk" (mentor: Marek Mikuš)
April L. Reber (UC Santa Cruz), "When Middle-Class Talk Goes Underground: Conspiracy Talk, Authoritarian Spectres, and Speech Rights (mentor: Emanuela Grama)
The committee for the 2021 prize consisted of Elana Resnick (University of California Santa Barbara), Anna Tuckett (Brunel University, London) and Julie Kleinman (Fordham University), who is also the outgoing Projects and Publications Chair at SAE.
2020 SAE Graduate Student Paper Prize:
Winner: Kelly Alexander, "When Food Waste Goes to Work: The New Flavor of the E.U.'s Circular Economy "
Runner-Up: Antonio Montañes Jiménez, "'Evangelical Gitanos are a Good Catch: Masculinity, Love, and Christianity in Spain"
Finalists:
Tatiana Safonova, "Digging National Soil: The State, Private Gardens, and Corpses in a Hungarian Village"
Evy Vourlides, "Living with Regenerative Design: Examples of Economic Diversity from Austerity Greece"
Olivia Spalletta, "Transient care, disability, and belonging in the Danish welfare state"
_
*We understand the field as the anthropology of Europe, broadly conceived.